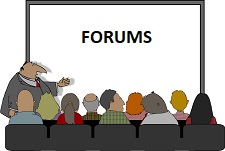 10:00am

John Kludt, K4SQC

AMSAT — No Sunspots – How About Giving Satellites a Try?

This presentation will focus on the current fleet of satellites in orbit carrying amateur radio. We will discuss what is needed to work them. This can be as simple as an HT and an Arrow antenna, or as complex as a 2.4 GHz system for the ISS HamTV downlink. Additionally we will discuss some of the activities presently going on with satellite users including telemetry monitoring, grid expeditions and the VUCC Satellite award program.

11:00am

David Benoist, AG4ZR

State of ARES Statewide, Getting Youth and New Hams Involved

1:00pm

Steve Ellington, NL4Q

EFHW Antennas

One simple antenna for ALL HF bands……The EFHW

Topics:
* End Fed Half Wave Antenna Introduction
* EFHW compared to random length end fed antennas.
* Installation techniques of the EFHW antenna.
* Advantages and disadvantages of end fed antennas.
* One antenna for 11 bands!