?

?

?

?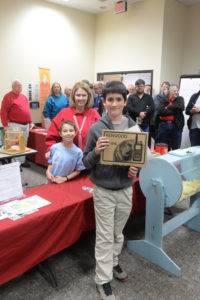 Colby Pete – KN4KSE
2018 Door Prize Winner
*** You MUST be present to win a Door Prize. Unclaimed Door Prizes will be redrawn at 1:30pm until a winner is found. ***
Door Prize Drawings start at 10:00am and continue every hour at the top of the hour until our final Door Prize Drawing at 2:00pm when we will give away our Grand Door Prize listed below.
All attendees of TechFest should receive one FREE Door Prize Ticket upon entering TechFest (not to be confused with the Raffle Prize tickets that are available for purchase). FREE Door Prize Tickets will be drawn to win all the Door Prizes listed below.
*** Grand Door Prize – To be announced soon ***
ARRL – (www.arrl.org)
2 – $50 ARRL Gift Certificates
2 – $25 ARRL Gift Certificates
JMR Sales – (www.jmrsales.net)
Dual Band (Handheld) Whip Antenna
MFJ – (www.mfjenterprises.com)
1-Telegraph Key. MFJ-550
1-World Map Clock
1-24/12 hour LCD clock
2-24 hour LCD clock
1-Ceramic insulator (6pk)
2-Clear Tone Speaker
1-Telescopic 3/8 wave 2 meter Antenna
1-Guarding Angel Lightning Surge Protector
Midget Flex Duck Small Antenna
MFJ-1702C Antenna Switch
MJJ-393B Headphones with dual volume control
ARRL, book, Small Antennas for Small Spaces
The ARRL Antenna Book, 23rd Edition
Paradan Radio – (paradanradio.com)
6″ power cord w/Power pole (red and black)
RF Adapter Guy – (www.adapterguy.com)
$10 RF Adapter Guy Gift Certificate
Tower Electronics – (www.pl-259.com)
6pc. Precision Screwdriver Set
6pc. Precision Screwdriver Set, long handle
Scan Cup Window-Mount Antenna
Earbuds
Dual Band mini magnet antenna
The Wireman – (www.thewireman.com)
RG8 CQ1000 coax cable